Contact Us
For general questions about the roadshow, please contact your local dealer by clicking here.
For all other questions please email TopconRoadshow@topcon.com
Can't find a show? Register here and we'll alert you when a roadshow comes to your area.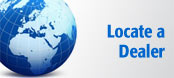 Your local Topcon dealer can provide excellent service and help find a solution that's right for you.
E-Mail Notification
Please complete this form to be kept up-to-date on upcoming shows and registration availability for Topcon Technology Roadshows in your area.
* denotes required field